Submitted by

Krystin Ventura

on Wed, 06/05/2019 - 17:33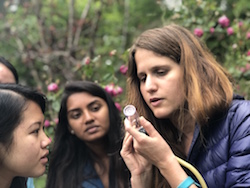 With recent advancements in portable, reliable, and low-cost scientific instruments, biological field research is flourishing. Now, a group of UC Berkeley undergraduates is newly equipped to investigate the natural world in real time with these new tools at their disposal.
From May 20-28, 2019, the Department of Integrative Biology's inaugural Field Genomics summer course immersed first-year undergraduates in cutting-edge molecular biology techniques. The course provided thorough hands-on training in skills such as sample collection, nucleotide isolation, and portable nanopore DNA sequencing.