By Kirsten Mickelwait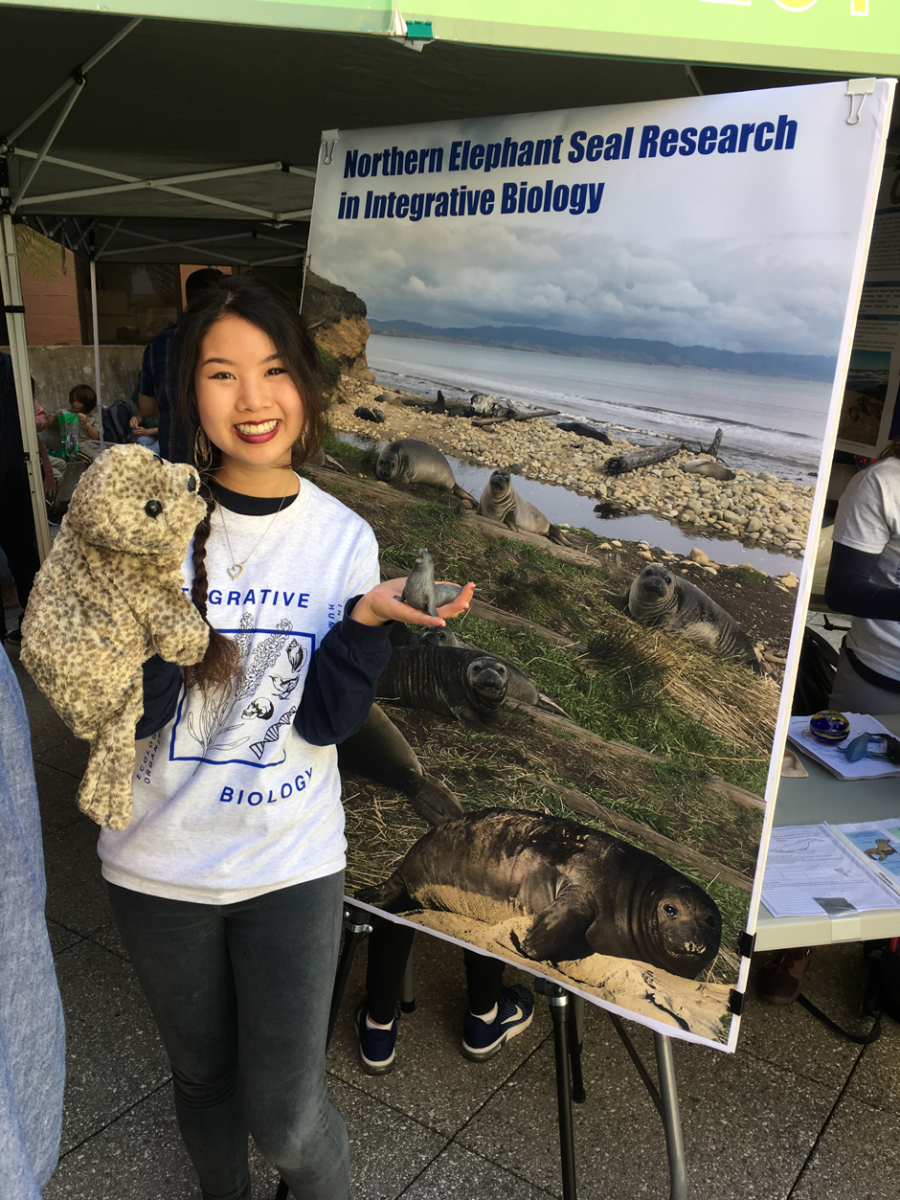 Diamond Luong BA 2020 presenting her research poster on northern elephant seals.
When Diamond Luong first arrived at Cal as a freshman, she had questions. How to pick a major? What were the best classes to take, and in what order? What about research opportunities? Berkeley is a big place and it isn't always easy to find the resources to help you along your chosen path. Luong sought information from friends in various majors, but wanted advice specific to integrative biology. When she discovered IB Peer Advisors, she found the program so helpful that, by her senior year, she became a peer advisor herself.
The role requires weekly one-hour meetings to learn advising skills on such topics as study strategies, course logistics, and navigating campus, and another three hours to counsel undergraduates. Participants receive one unit per semester, with a P/NP grade so it doesn't affect their GPAs. Luong enjoys interacting with lower classmen and sharing her own knowledge. "They have a lot of the same questions I had when I was in those levels," she says. "It's nice to be able to share my experience and circle around to pay it back."
In addition to her studies and advising, Luong is writing her senior honors thesis and works as an undergrad researcher in the Vázquez-Medina lab, where she's comparing proteins in northern elephant seals to those in humans. The lab experience is particularly gratifying because rather than working under a graduate student, Luong reports directly to Professor José Pablo Vásquez-Medina. She advises other undergrads to carefully research the faculty they might want to work with, even making an appointment to meet them personally and learn more about their lab.
Luong also participates in a wide range of campus activities and volunteers in a clinical research lab at UCSF Benioff Children's Hospital Oakland. She's been applying to medical schools as well. Looking back on her nearly four years at Cal, Luong has this advice for other students: "Take advantage of all the opportunities on campus," she says. "Many IB students are focused on pre-health, but you should also be open to research opportunities in other areas. Only during your undergrad years will you have this wide variety of options."