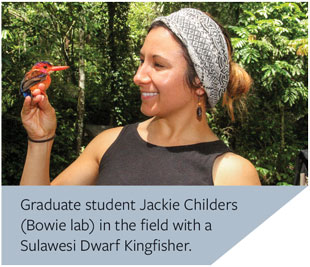 Our internationally recognized and top-ranked Department of Integrative Biology, together with the Berkeley Natural History Museums, constitutes the hub for organismal and evolutionary biology on campus. Periodically, all academic departments draw up strategic plans; our most recent plan was finished at the end of 2018, and strengthens our leadership in scientific integration across the full span of biological disciplines. The faculty of Integrative Biology investigate fundamental questions over wide-reaching structural and spatial scales, from more reductionistic studies of cellular function and physiology to behavioral research, genomics, disease biology, biomechanics, and ecology, all couched within an evolutionary framework.
We also embrace the need to study biological events over multiple timescales, from rapid behavioral responses to macroevolutionary phenomena occurring over tens of millions of years. Critical to our mission is the ability to study organisms in their complex and changing natural environments. Much of the outstanding reputation of the department stems from its deep tradition of field research and training, and from the vibrant communities of faculty, staff, and students associated with our museums and with the many field stations of the UC Natural Reserve System.
Ongoing revolutions in genomics, bioinformatics, and data science have dramatically increased our ability to tease apart those ecological and evolutionary forces that mold the phenotype and that structure ecological communities. The department embraces these advances and our most recent faculty hires work at the cutting edge of one or more of these technological revolutions. Ongoing construction of a dedicated physical shared space for faculty and students in the Center for Theoretical and Evolutionary Genomics will greatly enhance our research capacity in this field. Future hires over the next 3–5 years will include faculty working in the fields of vertebrate physiology, comparative biomechanics, vertebrate palentology, microbiome ecology, plant ecology and evolution, and marine biology. Each of these faculty appointments will coordinate with our strong culture of dedicated and innovative undergraduate education, including a commitment to outreach values embraced by UC Berkeley, the top public university in the world.
The value of the department's integrative approach to teaching has special relevance today for the training of graduate and undergraduate students, including those entering the health science professions and those concerned with stewardship of our ecosystems in the face of global change. Our undergraduate student group, Department of Integrative Biology Students (DIBS), facilitates career development and professional interaction with faculty, and we will soon complete the first-ever dedicated meeting and study space for our undergraduate majors.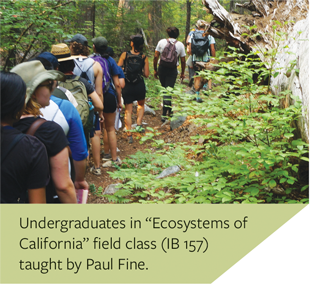 More broadly, over the next decade, the department seeks to maintain the intellectual breadth of our faculty along with the diversity of the biosystems that they study, to maintain the vibrancy of the museums and field stations, to increase levels of stipend support for our graduate students, and to realize our substantial potential to attract philanthropic giving. We are moving into an era of unprecedented anthropogenic global change, and our department is superbly positioned to provide the educational, scientific, and leadership capacity necessary to analyze and to forecast the biological consequences of such a dramatic challenge.

— Robert Dudley, Professor and Chair