Changemaker Grant Innovates IB Instruction
By Kirsten Mickelwait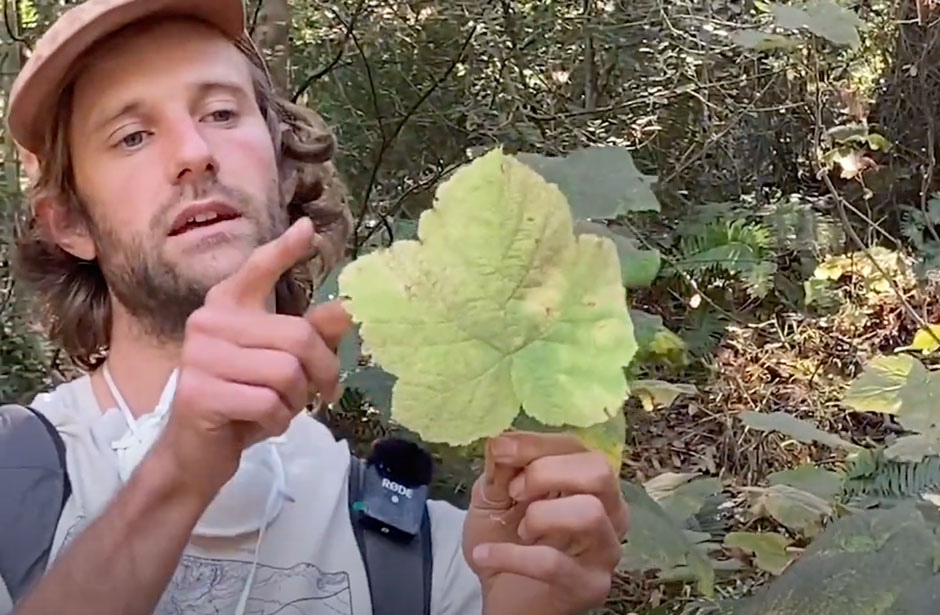 Isaac Lichter Marck describing the characteristics of a thimbleberry leaf (Rubus parviflorus) on video for IB 157 students during his hike.
Last spring, with little warning, university courses worldwide had to transition from the classroom environment to remote learning. This posed a particular challenge for field and lab courses, which rely exclusively on hands-on instruction. At UC Berkeley, this coincided with the launch of Berkeley Changemaker™ Technology Innovation Grants, designed in part to meet the challenge of delivering innovative education during a global quarantine.

IB lab instruction manager Tamara Mau—in consultation with faculty Paul Fine and Michael Nachman—submitted a proposal, "The Department of Integrative Biology Takes Remote Learning Outside," that combined technology with graduate student ingenuity to develop rich content for field courses. They received a $26,000 grant, with funds available to any IB lab instructor or GSI requesting equipment to modify their instruction and to compensate GSIs for creating new curricula.

"IB is very well known for its highly experiential upper-division courses," says Mau. "The online world was new to us. How would we be able to do hands-on lab activities or field work and create those connections between students, their instructors, and the natural world?"

Here are three examples of a few courses that pivoted to remote instruction using funds from the Changemaker grant.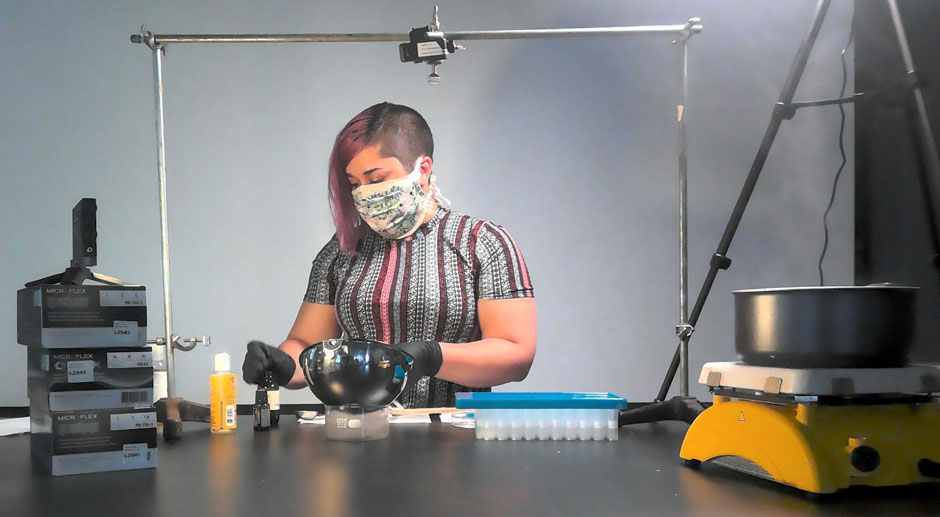 Betsabé Castro Escobar demonstrating how to prepare herbal lip balm for IB 117 students (photo credit Mary Carmen Reid).

For the Ecosystems of California course (IB 157), Fine and his GSI, Isaac Lichter Marck, normally lead their students on hikes in the Berkeley hills to teach about different plants, their characteristics, and how they fit into the ecosystem. The pair was able to record and post YouTube videos of their own hikes that students could watch asynchronously, then go to the GPS location to observe the exact same tree or shrub.

"Despite the limitations placed on us by the circumstances, we've been able to reach a broader audience this year with our YouTube channel," says Lichter Marck. "We're hoping to create resources that can educate people about native plants for many years to come."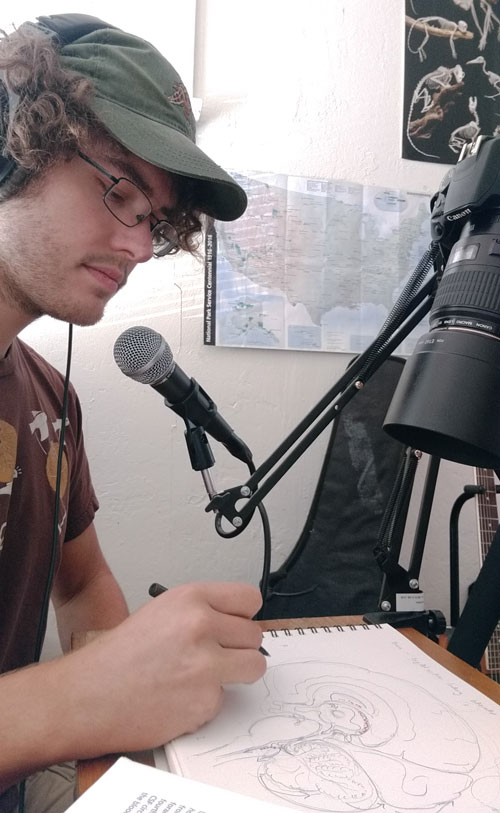 Head GSI Isaac Krone illustrating the human brain during a video lecture for anatomy students.
For the Medical Ethnobotany Lab (IB 117), GSIs Betsabé D. Castro Escobar and Javier Andrés Jauregui Lazo used videos and photos taken in the lab and at the UC Berkeley Botanical Garden to teach about medicinal plants from six major geographic regions around the world. Using some of these plants, they led demonstrations about how to make medicinal teas, hand sanitizer, herbal salves, soaps, lip balm, and more. They then prepared care packages containing these products, enabling their students to engage with the plants they were learning about.

"When studying botany, one has to engage with all the senses to better understand a plant's sensorial and morphological traits," says Castro Escobar. "Access to this type of technology [provided by the Changemaker™ grant] could help us bring more field-based labs to anyone, regardless of where they're located."

One of IB's most popular courses, the Anatomy Lab (IB 131), was particularly challenging to make virtual—because of privacy issues, the lab's cadavers cannot be filmed. So head GSI Isaac Krone, a gifted illustrator, created video lectures instructing students how to depict their own bodies. "Drawing your own hands, feet, and other body parts is a great way to learn about the structures of the human body," Krone says. "Students can gain a better understanding of biomechanics and how the body works in a very pragmatic way."

"Our department has many lab and field courses, and it requires quite a bit of new technology to bring what we do into the digital space," says Mau. "We learned a lot about instructional resilience, and we were also motivated by the equity and inclusion lens. By embracing the idea of interacting online, we can bring more students into the IB experience."