Advocating for environmental and social justice
By Kirsten Mickelwait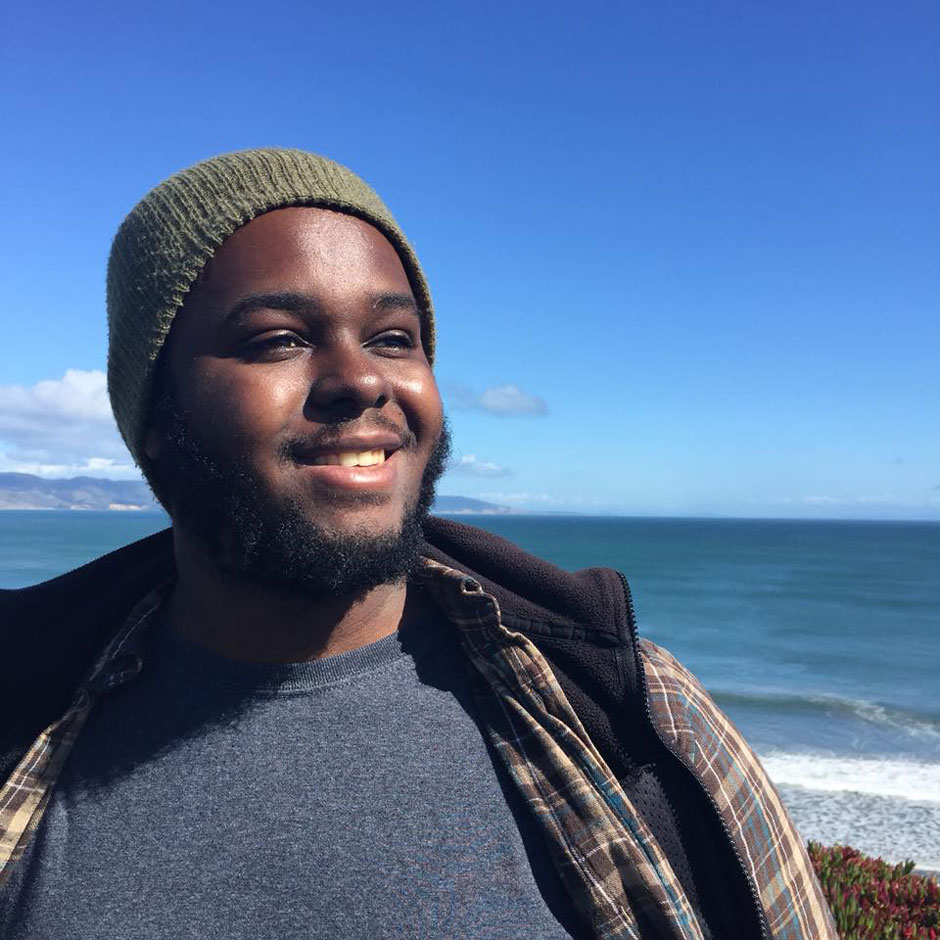 Kwasi Wrensford, IB PhD candidate
Kwasi Wrensford considers himself an animal behaviorist. But he's also passionate about social justice among humans, and has become one of the leading voices in the department's conversation around race, dignity, and safety. In his research and in his activism, he's finding links between environmental and social justice issues.

Working with behavioral biologist Eileen Lacey, the fourth-year PhD candidate currently does field work in the Eastern Sierra Nevada of California, researching the ecology of two chipmunk species—the lodgepole and the alpine. His studies build on the work of the Grinnell Resurvey Project—an assessment of how terrestrial vertebrates have responded to environmental change over the past century in about 700 locations across California. Many species have responded to climate change by moving upslope to cooler temperatures, while others have remained in place. Wrensford's research aims to find out the reasons behind this differential response.

"Traditionally, the two chipmunk species have lived in similar habitats at a similar elevation," he explains. "Now the alpine is moving higher, but we don't see that movement in the lodgepole. Which of those reactions will enhance the likelihood of survival? We look at both long-term evolution and how individuals are doing with change in their own lifetimes."

One of the specific traits he's observing is exploratory behavior and stress response. For ten minutes he films an animal's behavior in an open neutral space, then codes the behaviors using a video analysis tool. Certain behaviors, such as latency to enter the arena, time spent on the edge vs. the interior, and overall activity, are behaviors associated with more exploratory animals, potentially giving those individuals more flexibility in responding to a changing or novel environments. He's still analyzing the data, but preliminary results indicate that there are indeed significant differences between the two species.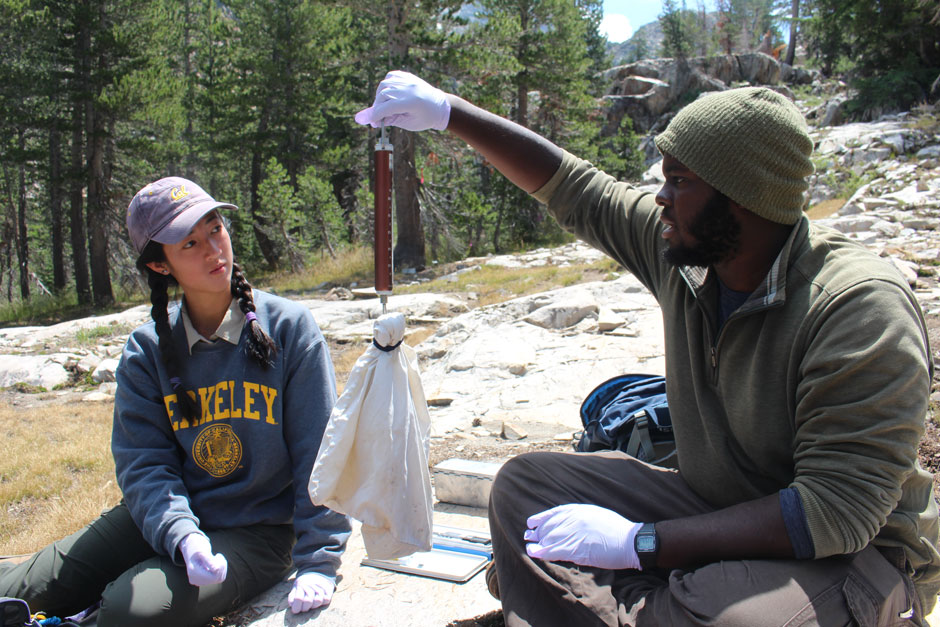 Wrensford, along with IB alum Aimee Nguyen, weighing a chipmunk they've captured to determine how populations of chipmunks are changing from season to season.
Back in Berkeley, Wrensford has been very active in the Black Lives Matter movement and diversity, equity, and inclusion (DEI) efforts within IB. His website includes the "Dark Matter" blog. "I was a high school senior in South Georgia when Trayvon Martin was killed," he says. "Growing up Black in America, I was always plugged into the movement, but this made it political for me and strengthened my desire to make a change." He joined the DEI committee in fall 2019.

Then, in May 2020, George Floyd was killed under the knee of a Minneapolis policeman. That event was "a catalyst for increased energy to take this more seriously," Wrensford says. He led a group of IB graduate students to write a heartfelt letter to the faculty asking for actionable measures against racism in the department and across campus. That letter inspired much deeper conversations around race at the department and university levels, including a written faculty response, town halls, more DEI programming, and the student-led inclusiveIB Symposium.

"Berkeley is one of the top programs in ecology and evolutionary biology in the U.S.," he says. "We should be using our clout to take a proactive and vocal stance in support of anti-racism and BLM, providing leadership for our field as a whole." (See full story here)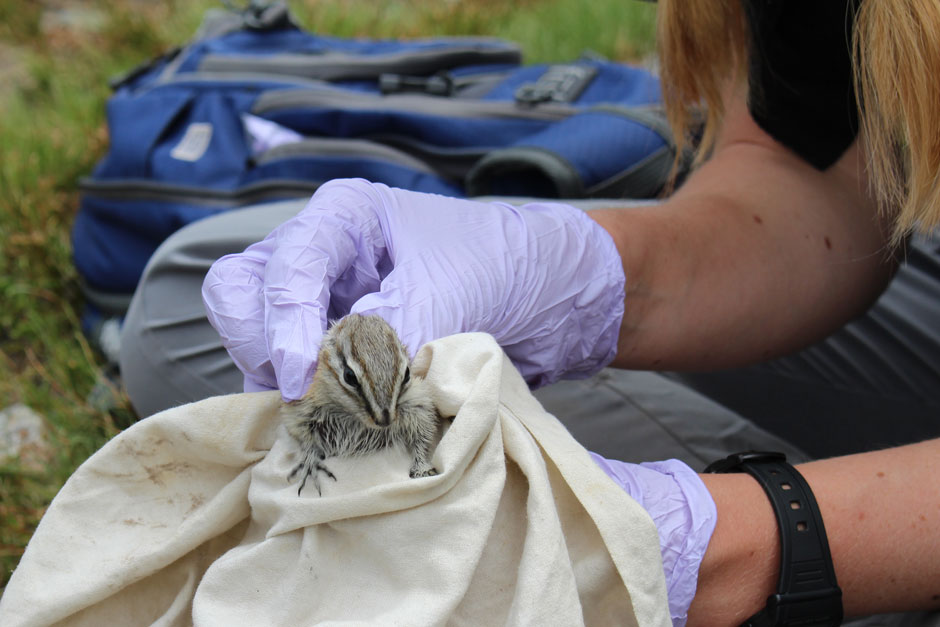 Alpine Chipmunk (Tamias alpinus) near Saddlebag Lake, California.
"I feel good about all the positive steps taken thus far," he says. "But it's too early to say 'mission accomplished.' The department still has a lot of work and follow-through to do before we can say that we're taking ownership of this issue."

Are there any connections between chipmunk behavior and human cultural progress? That may be too big a leap, but "in my work I think about environmental and social justice issues all the time," says Wrensford. "How we've made money as a country is directly responsible for the climate crisis we're experiencing right now. Animals in mountain habitats are seeing an accelerated slice of what we're in for. It's a pretty stark glimpse into what we're facing and how we must stay resilient."
Learn more about Kwasi's research: http://kwrensford.weebly.com