Pivoting research to help fight the coronavirus
By Kirsten Mickelwait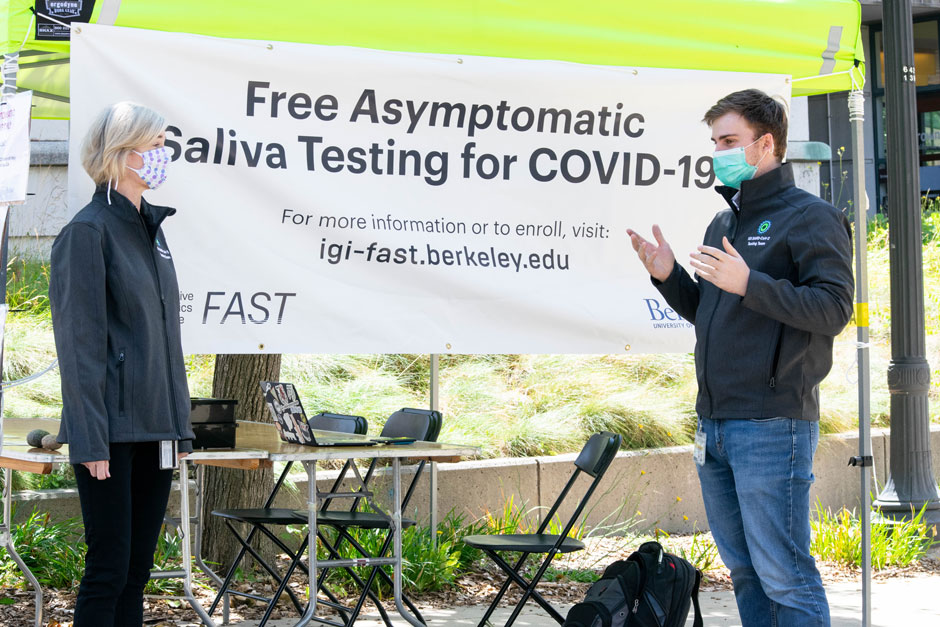 Alex Ehrenberg (right) talks with Jennifer Doudna about the FAST trial of saliva tests for COVID-19 (photo credit Irene Yi).
As the COVID-19 pandemic began dominating headlines last March, researchers across the Berkeley campus pivoted their labs to address virus-related problems. One critical need was to develop a relatively quick test to serve the local Bay Area community.

The Innovative Genomics Institute (IGI)—headed by the co-developer of CRISPR-Cas9 gene-editing technology and 2020 Nobel Laureate, Jennifer Doudna—initiated work to build a new, clinically licensed COVID-19 testing lab. A call for volunteers went out to lab technicians, graduate students, and postdocs—among the 800 applications was that of Alex Ehrenberg, a second-year PhD candidate in IB. Because he had worked in medical research at UCSF since his freshman year at Berkeley, he was familiar with the Health Insurance Portability and Accountability Act (HIPAA) and Institutional Review Board (IRB), so he was a natural choice to assist with approvals, policy, and navigating regulatory and bioethical issues.

The IGI COVID-19 testing lab managed to set up a fully automated testing lab in just a few weeks, as opposed to the standard several months. It has since provided nearly 20,000 COVID-19 tests to the local community, prioritizing unhoused residents, uninsured individuals, and first responders.

It soon became clear that campus administrators would also need a way to determine who was safe to come back to campus and when, so the IGI created the Free Asymptomatic Saliva Testing (FAST) study. "We wanted to start providing a scalable, well-tolerated test to secure clinical validation," Ehrenberg says. In contrast to the standard COVID test—a stick shoved up the nose—IGI developed a polymerase chain reaction (PCR) test that can be collected from saliva to detect the virus's genetic material. Participants in the IGI FAST study were screened every other week, and those who needed to work on campus were also invited to get tested biweekly. By late-October, nearly 4,800 people were participating and more than12,000 tests had been administered.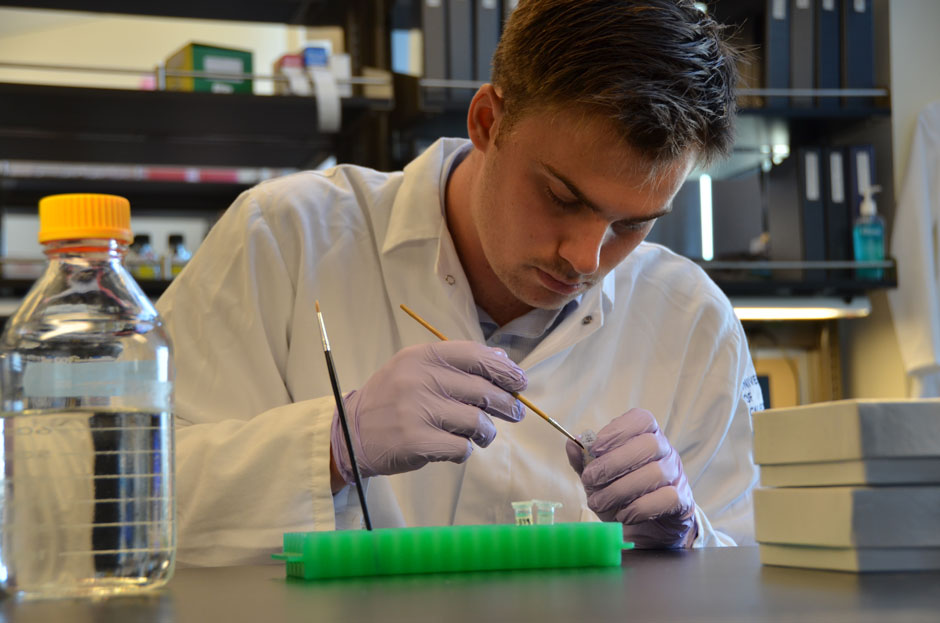 Ehrenberg preparing brain tissue for immunohistological study (photo credit Ben Ailes).
In his doctoral thesis and work in Daniela Kaufer's lab, Ehrenberg is exploring the interface between social stress and the risk for neurological diseases like Alzheimer's. His work on the FAST study led him to see some parallels between the two projects. "Whatever the basic and translational research, you need to move it into a public policy discussion," he says. "There's usually a ten-year disconnect from basic science to the public sphere. But if you can anticipate the policy needs, you'll prevent a lot of issues from happening in the first place."

Ehrenberg was joined by other members of the IB community in the FAST study—from graduate students volunteering with sample collection to IB postdoc Cara Brook and Professor Mike Boots helping to model campus disease dynamics to figure out how to best deploy resources.

"I'm extremely grateful to have had the opportunity to serve both the Bay Area community, where I've lived my whole life, and UC Berkeley," Ehrenberg says. "This whole experience has really illuminated for me what can happen when you bring many different kinds of scientists together to focus on a singular goal. It's been incredibly transformative."