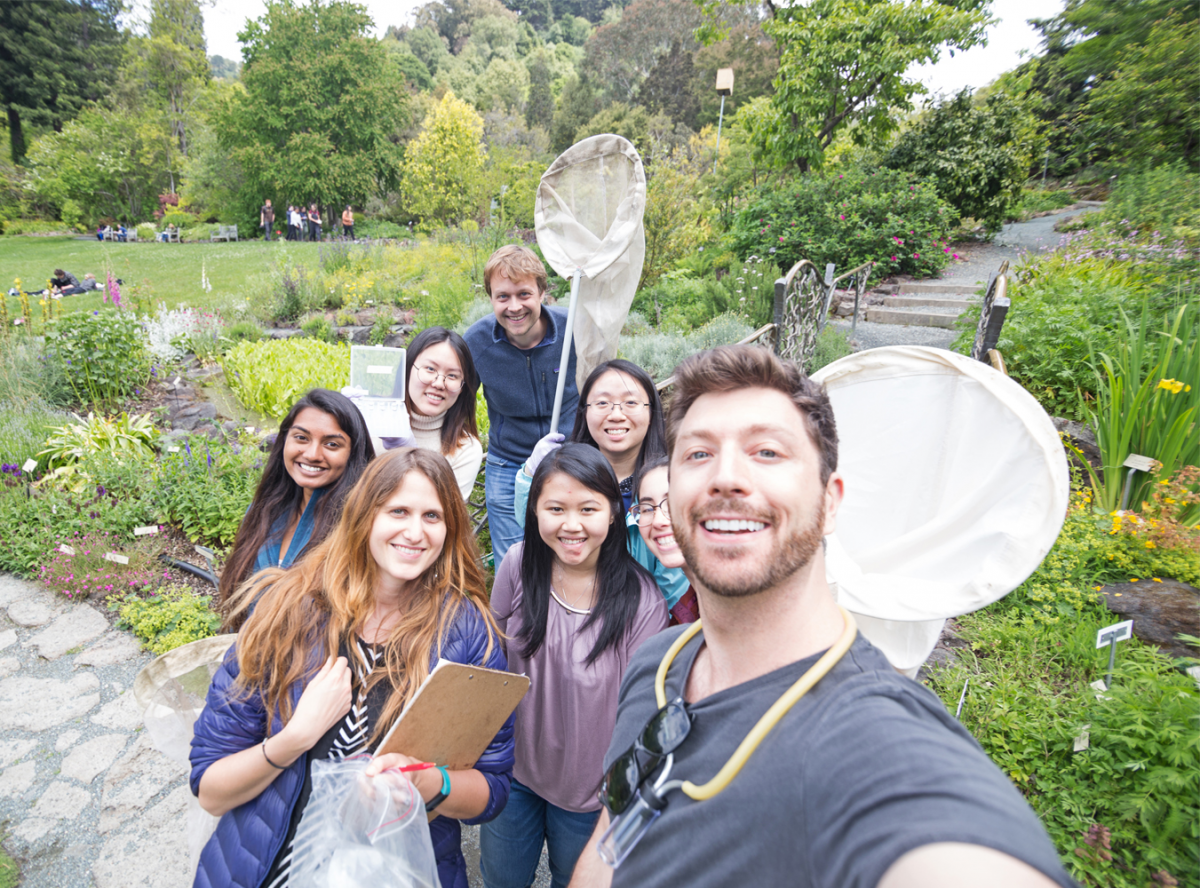 Pomerantz (front right) with students from the Field Genomics course
Last summer, a group of first-year undergraduates got the unique opportunity to use cutting-edge portable DNA sequencing technology to answer real research questions during IB's inaugural Field Genomics course. Students in the nine-day course gained hands-on experience with nanopore sequencing — a recently developed method that allows genes to be rapidly sequenced in the field.
Lead instructor Aaron Pomerantz, an IB PhD student, says the primary goal of the course is to "do something that's entirely immersive and empower students to touch every single level of the experiment," from coming up with research questions to interpreting results. The students worked on four different projects, but rotated so that all students got hands-on experience with every aspect of the research, including collecting samples, DNA isolation, and sequencing.
The field component of the course was taught at the UC Botanical Garden, where students collected and analyzed plant samples in collaboration with Vanessa Handley, the garden's director of collections and research. Students also worked on projects with IB graduate student instructors Elisa Visher, Kirsten Verster, and Ben Karin at the garden and in their labs, with guidance from Assistant Professor Peter Sudmant.
One project emerged from the students' curiosity about why some roses in the garden were sick. Visher and Sudmant helped them use nanopore sequencing to compare the microbial communities on sick plants versus healthy ones.
Two projects grew out of the graduate student instructors' research. Verster had recently discovered a potentially new species of fly, and students sequenced part of its genome to gain insight into how it evolved to specialize on host plants that contain toxins. Karin works on reptiles, and students sequenced mitochondrial genes from reptile samples he had collected in places like Borneo to better understand reptile phylogenetic relationships and evolution.
For the fourth project, the students sequenced genes from 12 plants that Handley collected in South America but could not definitively identify. Pomerantz says, "We kind of set that up as a mystery for the students. Can you help this professional botanist identify her plants using molecular markers?"
The students, many of whom were entirely new to research, produced data that confirmed most of Handley's tentative species identifications, but in some cases suggested that the plants may be different species than what Handley had predicted. Pomerantz said that all four projects yielded similarly useful results.
One student said, "I was really surprised by how much you could accomplish in a short amount of time and how it actually translates to real-life issues and real-life problems, and it's not just 'follow these steps'."
Exposing students to what scientific research is actually like is a major goal of the course. "I think the students were really surprised that we didn't know any of the answers they were going to get," Pomerantz says. "But you know, that's research, that's science. We are trying to find things that we don't have an answer to, or have never been found before."
Another goal was to get these first-year students engaged in the research of the department by bringing in faculty and graduate student guest lecturers and giving tours of campus resources such as the Museum of Vertebrate Zoology. Pomerantz says the class was kept intentionally small — 16 students — to facilitate interactions between students and researchers. It seems to have worked; at least two of the students are now working with one of the graduate student instructors on a project they started in the course.
Hear from undergraduates in the Field Genomics course (Video credit Aaron Pomerantz)
The new Field Genomics course was made possible by donations from alumni and members of our extended community during last year's Big Give campaign. For the summer of 2020, Pomerantz says IB would like to offer the course twice to accommodate more students while maintaining the small class size. He would also like to be able to bring the students to all of UC Berkeley's natural history museums, to further expose them to the rich scientific resources and opportunities on campus.
Help us meet our goal to expand the Field Genomics course next summer by donating during Big Give in 2020!