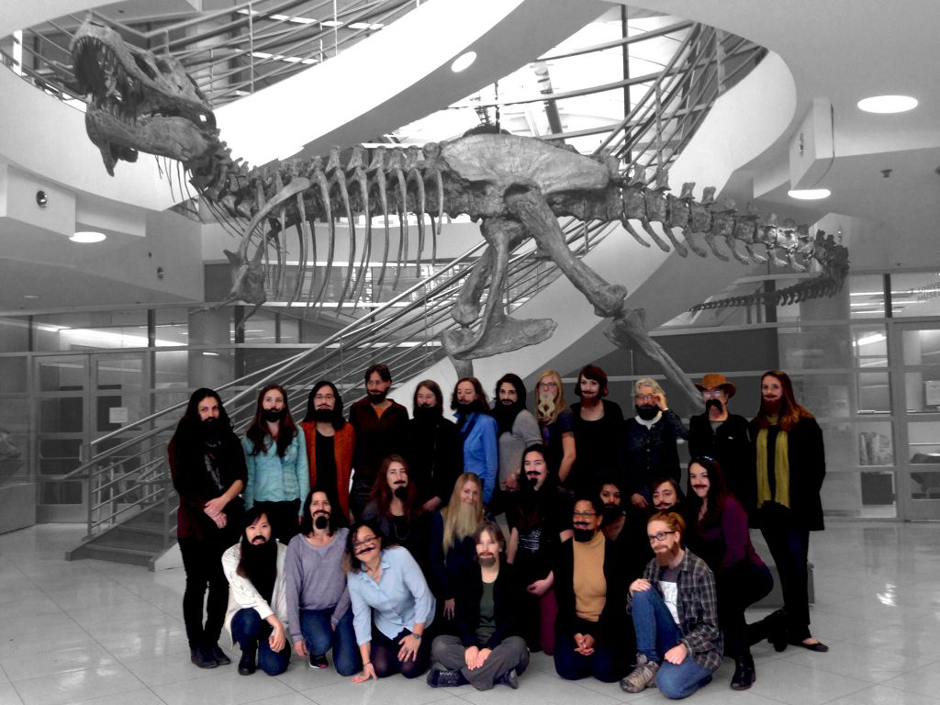 The Bearded Ladies of the UC Museum of Paleontology (Photo credit Lexi Jamieson Marsh)
In 2015, a group of female UC Berkeley paleontologists, including Associate Professor of IB Cindy Looy and Professor of IB Leslea Hlusko, posed wearing fake beards for the Bearded Lady Project: Challenging the Face of Science. Started by paleontologist Ellen Currano (University of Wyoming) and filmmaker Lexi Jamieson Marsh (Miami University), the tongue-in-cheek project uses humor to both celebrate the work of women paleontologists and highlight the challenges they face in a field that becomes increasingly male-dominated at higher rungs of the career ladder. Moreover, the project challenges the popular stereotype of what paleontologists look like. In August 2019, a documentary and photo exhibit about the Bearded Lady Project (BLP), featuring several Berkeley paleontologists, premiered on campus at the Lawrence Hall of Science.
The project started when Currano, frustrated by how she was treated as a woman in paleontology, joked to her friend Marsh that she might be taken more seriously if she wore a beard. This launched the BLP, and soon female paleontologists from across the US and UK signed on to have their pictures taken while wearing beards. Looy, a friend of Currano's, brought the project to Berkeley and got around 30 faculty, students, and staff from the IB department and the UC Museum of Paleontology (UCMP) involved. The traveling photo exhibit features 15 of these UC Berkeley scientists.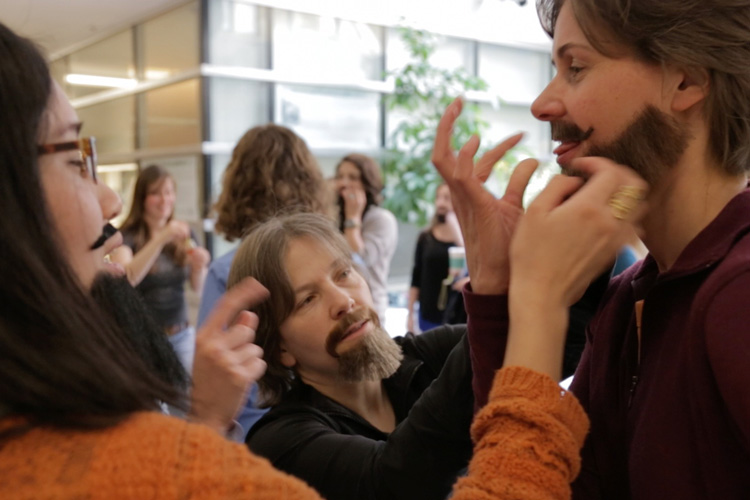 Looy, center, wearing a Big Lebowski beard, helps other Berkeley women scientists get the right look. (Draper White photo courtesy of The Bearded Lady Project)
Looy and Hlusko say that challenges for female paleontologists, who hold a relatively low number of faculty positions, range from implicit bias and misogynistic comments to employment discrimination and sexual assault. The discipline is based heavily on fieldwork, which often occurs in rugged and remote locations. Hlusko says there are "general assumptions about who is good at fieldwork and who is not," with women, herself included, often not considered to be "real" field paleontologists.
She says that having fun wearing beards with a group of female scientists "takes this tough topic and flips it around, where it's more of an empowerment feeling." Hlusko shares that she felt "a sense of strong sisterhood" as a result of the BLP. Looy agrees, saying, "If you do something like this together, you immediately get a feeling of camaraderie."
Hlusko points out that "when women have strong networks, they do better and they can then help each other move into leadership positions. So I'm hoping, on our campus, that [the] evening spent identifying with each other will help us build that network, and then help us work together to bring the culture change."
Looy and Hlusko's colleagues Carole Hickman, professor of the graduate school in IB, and Lisa White, director of education and outreach at the UCMP, are featured in the BLP documentary. Nearly 40 years ago, Hickman briefly wore a fake mustache while doing field research in Australia and she wore the same one in her photo for the BLP. Looy says of the documentary, "It's really powerful. There are several senior people that we think of as rock stars that more or less talk about imposter syndrome or feeling alone," which she thinks is tremendously valuable for younger scientists to hear.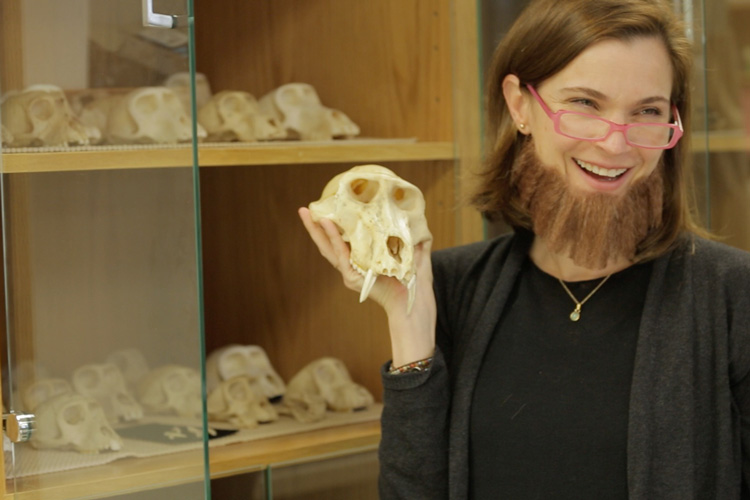 Hlusko with primate skull casts in Berkeley's Human Evolution Research Center (Lexi Jamieson Marsh photo courtesy of Bearded Lady Project)
The documentary premiered at Berkeley because of the high number of participants here, and because the campus provided financial support to hold the event, with IB, the UCMP, and the Human Evolution Research Center being the first research units to contribute, according to Looy. Proceeds from the documentary go to the Currano Scholarship Fund, which supports female identifying students in paleontology. Looy says that the campus has purchased screening rights and that IB plans to show the documentary as part of the departmental seminar series in the future.
Looy says that showing and discussing the BLP has many positive impacts. She notes that a male student from an ethnic group underrepresented in paleontology said that the BLP also made him feel empowered. "The grad students were really happy that somebody was doing something about it," she says, referring to equity and inclusion issues in general.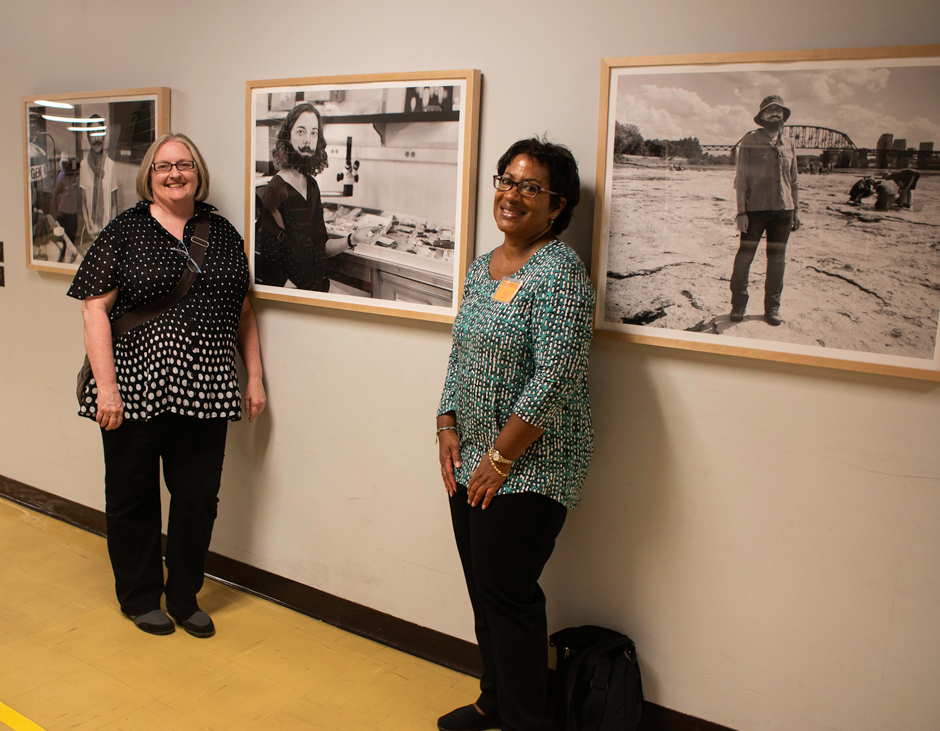 Pat Holroyd (left) and Lisa White (right) stand in front of photographs from the Bearded Ladies Project (Photo credit Helina Chin​)
Both Hlusko and Looy are hopeful and see some positive changes occurring. For example, Hlusko was on the executive committee of the American Association of Physical Anthropologists when they drafted their code of conduct, enabling them to enforce appropriate behavior among their members in professional settings. Looy says that experts on sexual harassment came to a recent IB faculty meeting and used case studies as a launching point for discussion, in addition to the required trainings provided by campus.
Hlusko points out that science itself benefits by having researchers from different backgrounds. "Science is way more of a creative endeavor than I think many people realize, and [for] that creativity … you need different perspectives coming at it. We talk about this all the time in terms of being interdisciplinary in the way that we approach research, but it's exactly the same concept [as] having people who have had different life experiences." Using humor and irony, the BLP aims to break stereotypes of what paleontologists look like, with the goal of having more diverse people and perspectives fully included in the science.
To learn more about the Bearded Lady Project visit: http://thebeardedladyproject.com/

Visit the following blog posts to read more of Looy (and IB Adjunct Assistant Professor and UCMP Adjunct Curator Ivo Duijnstee) and Hlusko's thoughts about the BLP.