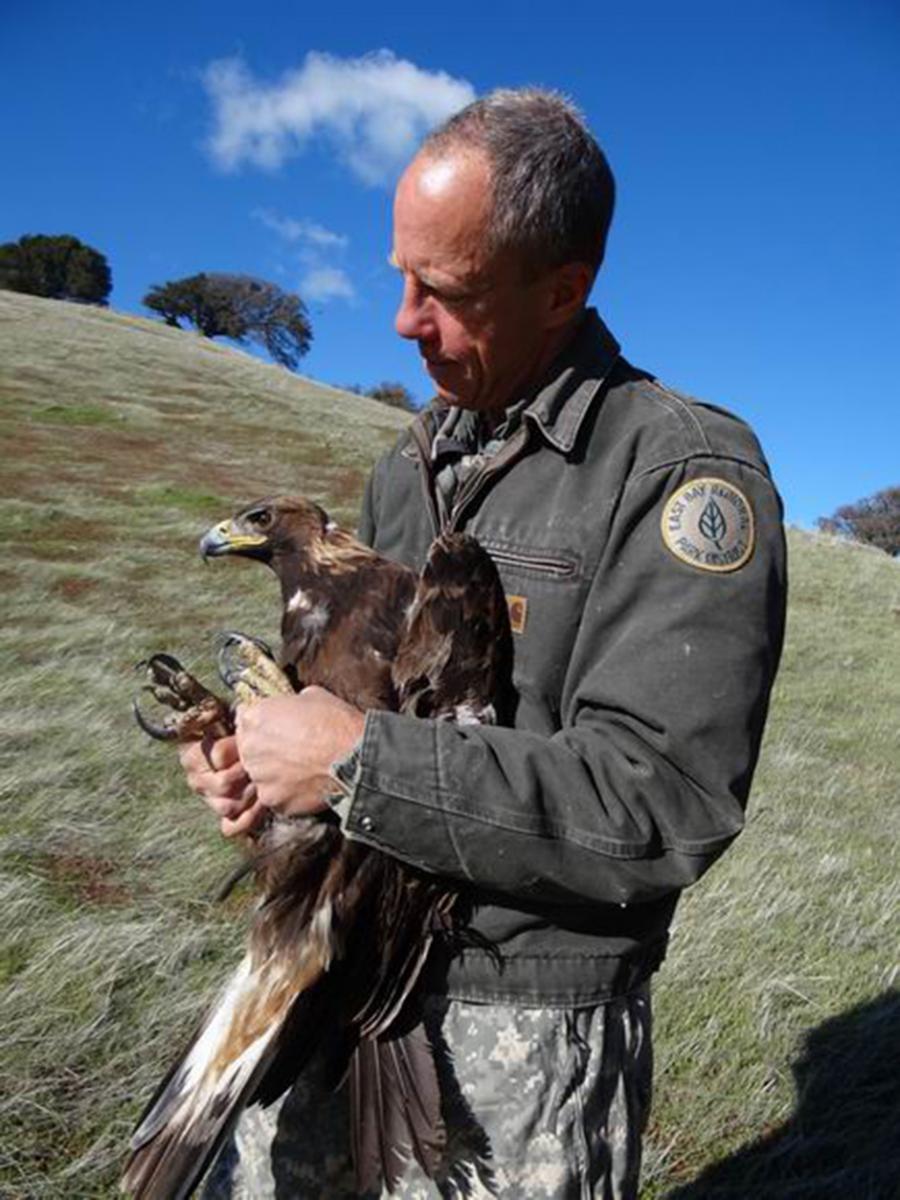 Doug Bell (Photo credit Joe DiDonato​)
Doug Bell graduated with a PhD in Zoology from the newly formed IB department in 1992, but he still actively collaborates with UC Berkeley in his current role as the wildlife program manager at the East Bay Regional Park District (EBRPD). In the past couple of years, Bell has been instrumental in helping peregrine falcons successfully nest on the Campanile on campus, and says he is "still very much intimately involved" with IB's Museum of Vertebrate Zoology (MVZ). He regularly brings specimens to the MVZ, uses it as a repository for genetic samples, and has been involved with courses in IB and the Cal Teach program on campus.
Bell's PhD advisor was Ned K. Johnson (1932-2003), an IB professor and curator of ornithology at the MVZ. Bell developed a love of birds at an early age and wanted to be an ornithologist since he was 10 or 11. A major reason he did his PhD at Berkeley was that he wanted to get "very fundamental training in systematics and evolution and taxonomy. The MVZ is just one of the absolute leaders in the field, in both research and education." For his PhD thesis, Bell studied two species of seagulls that have overlapping ranges on the west coast of the US, and how they intermix through hybridization. He also studied how changing weather conditions such as El Niño affect the distribution of these gull populations.
Bell says his time in the MVZ had a profound impact on him, in part because it was home to some of the top animal biologists in the country, and scientists from all over the world came to share their work. Also, having grown up in California, he says that having "all these scientists who were so dedicated to the science of California just really made an impression on me." He was also inspired by the history and mission of the MVZ, noting how its extensive records about California habitats dating back to the 1920s are currently being used to assess the impacts of climate change. "So much of the MVZ is [about] collecting, preserving, cataloging, and maintaining records," Bell says. "That is just so vital for how we can assess the present, and then moving forward into the future and assessing those changes."
After his PhD, Bell did a postdoctoral fellowship at the California Academy of Sciences, where he studied song evolution in white-crowned sparrows. "It really speaks to keeping your options open," he says. "No matter what you wind up specializing in, there [are] always opportunities out there that might lead into another field of expertise, and it just opens up incredible doors."
Bell eventually went on to a tenure-track faculty position at Cal State Sacramento, but left in 2005 to work in his current position at the EBRPD. Although he says he loved academia, he was based in the Bay Area and saw the move as an opportunity to do wildlife research closer to home. He continued to be an adjunct professor at Cal State Sacramento for several years, and still maintains a research associate position at the California Academy of Sciences.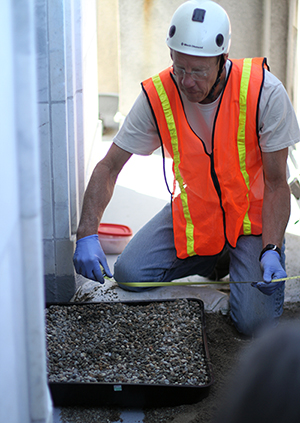 Bell on the Campanile replacing the makeshift sandbag nest site with a shelf filled with gravel, closer to a nest site that a peregrine would use in the wild. (Photo credit Mary Malec)
"It's kind of the best of all worlds to do practical field work, deal with the public, and at the same time be able to also accomplish some really nice research," Bell says. His research is focused on monitoring wildlife in the park district, particularly threatened and endangered species. He also gives recommendations to the district on how to balance wildlife conservation and habitat restoration with recreational use. For example, he might advise closing trails in areas where protected golden eagles are nesting.
Bell also collaborates with other agencies to develop regional approaches to wildlife management, and gives permits and grants to outside scientists, including some from UC Berkeley, to do research in the parks. "It's all going towards a common purpose of making sure that we still have wildlife, and sustain wildlife populations way into the future," he says. "My goal is to still have golden eagles around a hundred years from now and 500 years from now."
In 2017, Bell heard about a pair of peregrine falcons attempting to nest on the Campanile. Having done research there as a graduate student, he knew that the cement balcony was not a good place to establish a nest. He got permission to install a gravel-filled nest shelf, which the falcons successfully adopted. They have continued to nest there, and earlier this year, Bell helped install two live webcams so the public can observe the peregrines and their chicks.
Bell has also served in leadership positions at several wildlife societies, including as the former president of the Western Section of the Wildlife Society, which spans a broad region that includes California, Nevada, Hawaii, and Guam. When asked why he is involved in so many projects, Bell said: "Harkening back to the MVZ and UC Berkeley, the graduate students back then were all just so dedicated … When a person finds this kind of calling in life, it really transcends whatever nine to five job you have."

Bell recently attended a lunch at the MVZ and says it reminded him of the lyrics of the Eagles song, Hotel California: "you can check out any time you like, but you can never leave." He says, "Once you've gone through a program like that, it's just in your blood and it will always be in your blood."