Submitted by

mjalbe

on Tue, 03/07/2023 - 10:10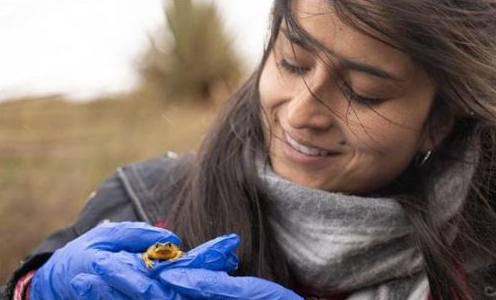 We're happy to report that we received over 20 gifts to the Graduate Student Support Fund during Big Give, and Rod and Helenita Spencer generously contributed an additional $3,000 for a Big Give Match! Thanks to everyone that helped us. Your generosity provides much needed support to our graduate students through opportunities to travel, work in labs, and conduct field research.
Above photo: Graduate student Maria Navarrete studies toads of the genus Antelopus and does fieldwork in Ecuador and Colombia. Her work provides insight into pressing conservation concerns. Ensuring that ecosystems have healthy amphibians can greatly benefit the whole system, since amphibians are so sensitive to environmental factors. Our Graduate Student Support Fund helps cover students' costs for travel and the tools necessary to do this kind of work.