Submitted by

rhkayen

on Fri, 04/23/2021 - 15:40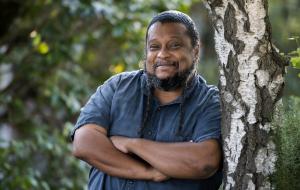 Congratulations to Professor Tyrone Hayes. One of six UC Berkeley faculty members and top scholars have been elected to the American Academy of Arts and Sciences (AAAS), a 241-year-old organization honoring the country's most accomplished artists, scholars, scientists and leaders who help solve the world's most urgent challenges.
Tyrone studies the effects of hormone-disrupting chemicals on amphibians. He is best known for his research concluding that the herbicide atrazine, commonly used in corn fields, is an endocrine disruptor that demasculinizes and feminizes male frogs.