Submitted by

rhkayen

on Fri, 06/12/2020 - 15:00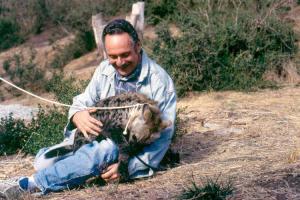 Stephen Glickman, a pioneer in behavioral endocrinology and founder of the world's first colony of captive spotted hyenas — he raised generations of them in a UC Berkeley research facility — died at his home in Berkeley on May 22 from pancreatic cancer. He was 87.
A professor emeritus of psychology and of integrative biology, whose lifelong bond with animals began during his boyhood near the Bronx Zoo in New York, Glickman joined the UC Berkeley faculty in 1968.
His sharp intellect, warm wit and overall lovability engaged peers and protégés in scientific and social justice pursuits, colleagues said.