Submitted by

mjalbe

on Mon, 10/23/2023 - 13:22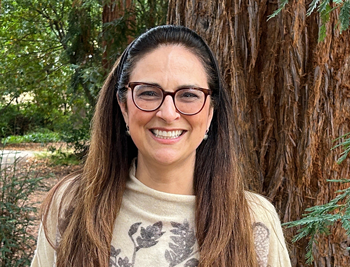 Introducing Dr. Lúcia G. Lohmann: A Leading Authority in Neotropical Plant Diversity and Conservation, and Our New Director for the University and Jepson Herbaria
Lúcia G. Lohmann is a distinguished addition to our Integrative Biology Department at UC Berkeley as of July 2023. With extensive expertise in plant diversity and biogeography, her academic journey has been marked by a commitment to understanding the intricate ecosystems of the Neotropics.
Lúcia's educational path encompasses the University of São Paulo, where she earned her Bachelor's degree in 1995, followed by her Master's (1998) and Doctorate (2003) degrees in Ecology, Evolution, and Systematics from the University of Missouri-St. Louis. She further honed her skills during a post-doctoral fellowship at the Center for Conservation and Sustainable Development at the Missouri Botanical Garden in 2004. Her specialized focus lies in the Bignoniaceae, a tropical and subtropical plant family renowned for its resplendent, trumpet-shaped flowers and ecological significance. This botanical family also holds a key role in understanding the origin and evolution of biodiversity within Neotropical forests. Dr. Lohmann employs a cross-taxonomic and multidisciplinary approach to explore the historical development of biotas, notably in the Amazon Basin and beyond.
Her distinguished career is underscored by significant leadership roles in prestigious organizations, including her current positions as President of the International Association for Plant Taxonomy (IAPT) and Executive Director of the Association for Tropical Biology and Conservation (ATBC). Driven by her passion for research, capacity building, and science outreach, she achieved recognition through her election to the American Academy of Arts and Sciences in 2021. Prior to her tenure at UC Berkeley, Dr. Lohmann held a faculty position in the Department of Botany of the University of São Paulo. Her scholarly, research, and service contributions are equally impressive. Notably, she serves as a Research Associate at the Missouri Botanical Garden since 2004 and at the New York Botanical Garden since 2008. Her past editorial role as Associate Editor for the journals Molecular Phylogenetics and Evolution, Taxon, Annals of the Missouri Botanical Garden, and Systematic Botany reflects her dedication to advancing the field.
Lúcia's research seamlessly integrates taxonomy, molecular systematics, ecology, and evolution, shedding light on the intricate processes shaping Neotropical biodiversity. Her work extends beyond academic boundaries, actively contributing to conservation efforts in Latin America. Between 2012-2018, she led the Brazilian component of the NSF-NASA-FAPESP funded project "Assembly and evolution of the Amazonia biota and its environment: An integrative approach," which sought to unravel the assembly of biodiversity within the Amazon basin over the last 30 million years. She is now co-PI of the "Trans-Amazon Drilling Project (TADP): Origin and evolution of the forests, climate, and hydrology of the South American tropics," a team effort that aims to bridge new data from geology, paleontology, and biology to understand the deeper history of the Amazon basin since the Cretaceous.
We are thrilled to have her as the new Director of the University and Jepson Herbaria, and a full professor in our department. Her remarkable career trajectory assures us of her continued significant contributions to the field of biology, academic, and scientific communities. For more information about Dr. Lohmann's research and achievements, you can visit her profiles on ResearchGate and Google Scholar.