Submitted by

rhkayen

on Wed, 04/08/2020 - 08:34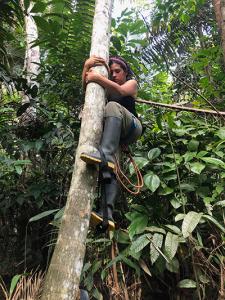 Giovanna Figueroa, a UC Berkeley Ph.D. student in the Department of Integrative Biology, had just arrived in the village the previous day, after a 16-hour boat trip from her base in Iquitos, the rainforest's largest city and one that can't be reached by roads. When the local guide she'd hired told her the latest, Figueroa was pressing herbarium specimens, preserving palm fruit pulp samples and pleased with her first day of research in Pucaurco on a two-week trip along the Nanay, a 196-mile tributary of the Amazon River.
"I decided I needed to find a way out," she said. "I was worried about my family. If my folks in Southern California got sick, I might not be able to get home. ​