Submitted by

rhkayen

on Fri, 06/26/2020 - 10:39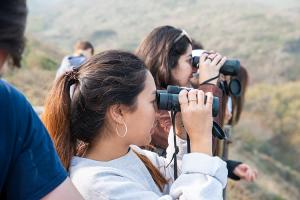 The Department of Integrative Biology is one of the winners of the first-ever Berkeley Changemaker Technology Innovation Grants. Launched by the office of UC Berkeley Chief Technology Officer (CTO) Bill Allison in the office of Chief Information Officer Larry Conrad, the winning projects, announced today (Thursday, June 25), will share $400,000 in general funds that were earmarked by Conrad in the 2019-2020 school year for information technology (IT) innovation.
The department's immersive, hands-on field courses in natural history that take place in the California outdoors are beloved by students, but professors wondered if they could survive via Zoom and social distancing in the era of COVID-19. And then they made it happen by investing in recording technology and graduate student ingenuity by developing rich content from the field that could be shared with students at home.