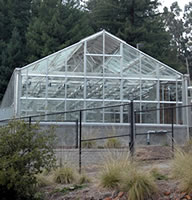 The Jane Gray Research Greenhouse (JGRG) is a modern facility that incorporates sophisticated climate-control software, movable benches, and custom-designed irrigation systems. The facility is open to all non-GMO research on a recharge basis. The 4-room greenhouse opened in 2005 and is part of the IB department. JGRG is located across from the UC Botanical Gardens on Centennial Drive on the UC Berkeley campus.
The Jane Gray Research Greenhouse comprises approximately 2,400 square feet of state-of-the-art research greenhouse space divided into four separate 600 square foot bays, a 'header house'/office building, and a small amount of outdoor storage and growing space.
There is an autoclave for sterilization of soils. The facility does not allow GMO plants. There are no stairs or elevators. Each of the four greenhouse rooms and the header house opens onto a central, covered breezeway.
Contact Information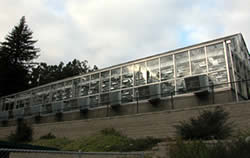 Kevin Charles
Sr. Nu​rsery Technician
(510) 643-4772
Greenhouse Hours:
By appointment only.
Climate Control
The building's climate control system can sense changes in:
temperature
humidity
light energy
wind speed and direction
The system's responses to these conditions is controlled centrally through an on-screen ARGUS interface to gas heaters, evaporative coolers, vents, fans and sunshades.
Carbon Water Filtration and "Fertigation"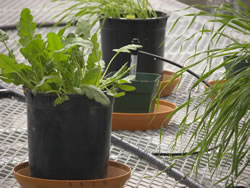 The facility is equipped with carbon water filtration to remove chloramines, and a separate deionized water filtration system. Each bay has a "fertigation" system if needed, and can be customized with an automatic irrigation system.
Location
The JGRG is located across from the UC Botanical Garden on Centennial Drive, and is easily accessible by a campus bus or by car. The Hill Line bus runs every 1/2 hour from Hearst Mining Circle.
Parking
Parking for visitors is $1.50/hr, or $6.00/day, in the lot directly above the greenhouse.
Mailing Address:
Jane Gray Research Greenhouse
Department of Integrative Biology
3040 Valley Life Sciences Bldg #3140
Berkeley, CA 94720-3140