IB Instruction Contacts
Pedagogical practice, engaging students in remote environments, classroom response systems, assessment strategies:
Joshua Povich, Jules Winters, Tami Mau
bCourses design, lecture, lab, DSP and exam support
IB Instructional Support staff: Jonatas de Paula Oliveira
Bio 1B: Brett Boltz
Do you need help with...

We can:

...creating an organized and accessible bCourses site?

Consult with you on bCourses site design, organization, and navigation strategies grounded in best practices for online learning.
Help you with the NEW Canvas Templates. (Instructor Workshop by CTL required. See photos below for the two new templates -- one is clean/simple and one is a bit more fancy.)
Customize the templates for your course or create a new template using DesignPlus tools.
Apply your template of choice to build out pages and modules for the whole semester. All you have to do is fill in your content.
Upload files, videos, etc. to your bCourses site.

...lecturing via Zoom?

Schedule course Zoom sessions with desired settings and links.
Provide a practice space to familiarize using zoom features and other online software.
Be a co-host (co-pilot) for zoom sessions to help with chat, zoom features, polls, breakout rooms, tech, etc.
Edit (trim) Zoom recordings and upload them to the Media Gallery.
Proof-read and edit AI-created transcripts (captioning) from video lectures.
Consult on which classroom response system (e.g. Zoom polls, Mentimeter, Poll Everywhere, etc.) best fits your course needs.

...creating virtual lab content?

Lend you audio-visual and other equipment to take your lab/field course online. See this website for equipment we have available or could purchase.
Set up classrooms with equipment or specimens for filming or photography.
Assist with production of video content for lab exercises, activities, or demonstrations (e.g. storyboarding, filming, editing, post-production).
Brainstorm how to transform lab activities to remote format.
Transform your online lab exercises with visually stimulating workflows and links to assessment using DesignPlus tools. See the example below.

...moving quizzes and exams online?

Copy your quiz or exam into bCourses Quizzes or Gradescope from a word document that you provide.
Set time limits and availability windows for the quiz or exam based on section, time zone, and/or DSP accommodations.
Communicate with DSP students as to how the bCourses exam will provide their accommodations for extended time.
Please contact us as soon as possible so we can get to work on your Fall 2021 courses.
[Return to Main IB Instruction Page]
---
Template Examples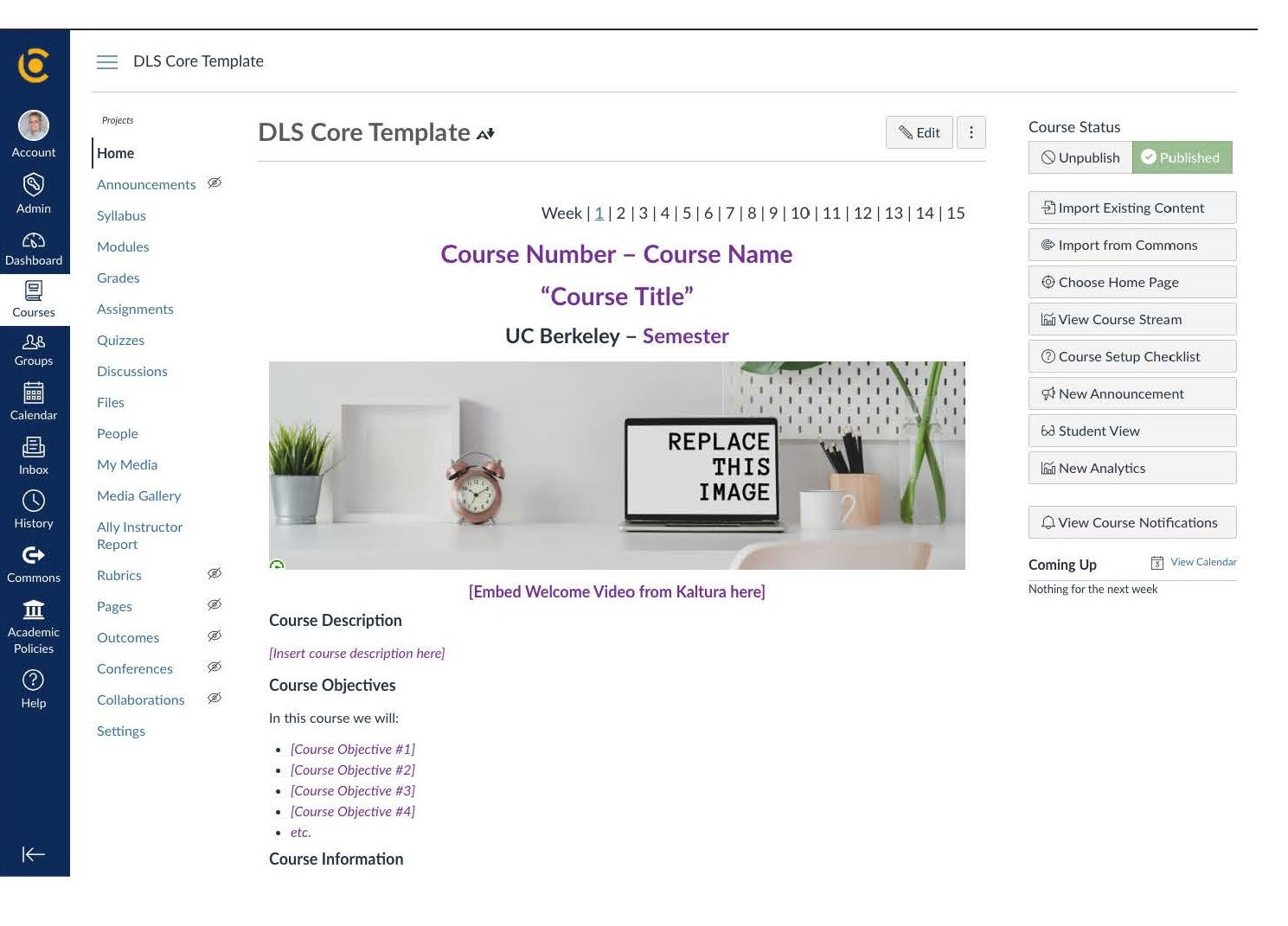 New Template #1: "Core" template. Clean & simple and uses bCourses' rich content editor.
New Template #2: "DesignPlus". A bit more fancy and uses CidiLabs DesignTools to edit. IB Instructional staff has the training and can make these pages for you.
Example of a custom lab exercise page we created in bCourses using CidiLabs DesignTools. It features an embedded pre-lab video and a link to a "worksheet" which was created using bCourses Quizzes.