Postdoc Profile: Cara Brook
Research and capacity-building in Madagascar
By Kirsten Mickelwait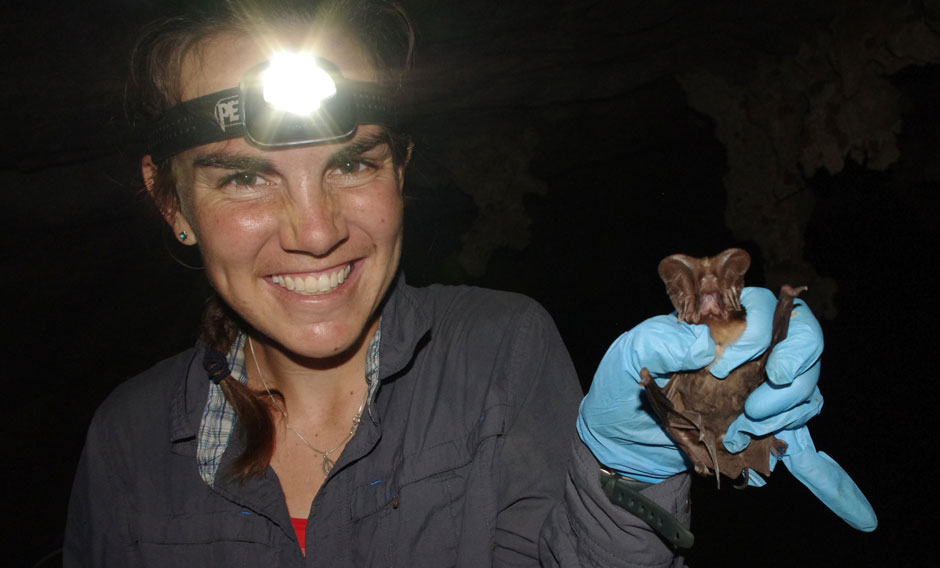 Brook studies bat-borne viruses as a postdoc in the Boots lab.
For most of us, the coronavirus pandemic came as a complete surprise. But for conservation biologist and disease ecologist Cara Brook, it was just a matter of time. For the past decade, she's been studying bat-borne viruses similar to SARS-CoV-2 (which causes COVID). "What we'd always feared and predicted has come to life," she says. Currently a postdoc in the lab of Mike Boots, Brook is building her own lab in the Department of Ecology and Evolution at the University of Chicago, where she'll begin teaching as an assistant professor in the fall.
Brook studies bats as reservoirs for emerging zoonoses, which are diseases—including those caused by the viruses SARS-CoV-2, Ebola, Marburg, and others—that can spill over to human populations. "It turns out that bats are reservoirs for viruses that cause the highest case fatality rates in the human population," she says. Bats are quite resilient to the damage caused by a virus in a cell; scientists believe that this tolerance is related to physiological adaptations linked to their ability to fly.
Since 2012, Brook has been studying the viral and immuno-dynamics of zoonotic infections circulating in wild fruit bats in Madagascar, with a particular focus on emerging pathogens derived from Old World Fruit Bats. But she's been equally passionate about scientific development and capacity building in that island nation. To that end, she founded Ekipa Fanihy ("Team Fruit Bat" in Malagasy), a research team of young Malagasy scientists, including several PhD students whom she mentors.
In a normal year, Brook lives about three months in Madagascar, where she spent several whole years of her PhD study. "I actively chose Madagascar for my research questions because it's scientifically fascinating but also because I truly love the country and intend to work there my whole life," she says. Her most impactful capacity-building project has been a course she launched in 2016, Ecological and Epidemiological Modeling (E2M2), a programming workshop for Malagasy students. In 2019, she also co-founded Madagascar's first-ever Women's March.
Brook works on several public health projects with Institut Pasteur de Madagascar, and in 2019 she obtained a grant from a collaboration between the Bill and Melinda Gates Foundation and the Chan Zuckerberg Biohub to bring the first Illumina sequencing technology to the island. Previously, scientists in Madagascar had to ship samples for sequencing to foreign labs in Europe or South Africa. Now, supported by another grant from Berkeley's Innovative Genomics Institute (IGI), Brook and her colleagues have leveraged this new in-country technology to sequence SARS-CoV-2 from human cases in Madagascar. They now regularly contribute SARS-CoV-2 sequences to GISAID, the global repository for genomic epidemiology, and use the sequence data to estimate parameters like the timing of SARS-CoV-2 introduction to the island and identify circulation of 'variants of concern.'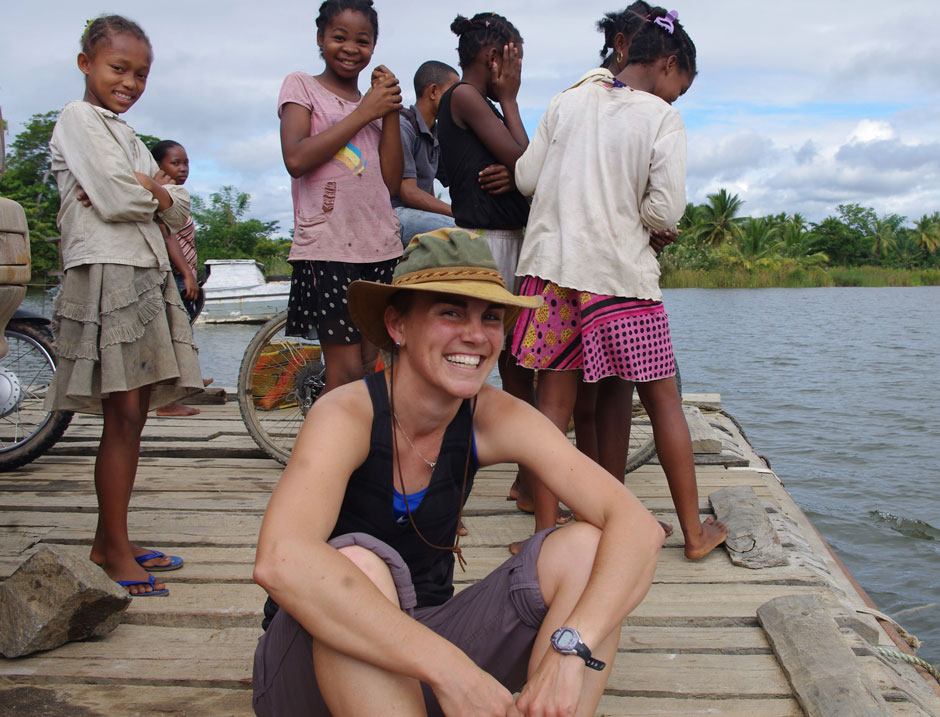 Brook in Madagascar where she spends much of her time doing field work.
Since the emergence of COVID, Brook has also collaborated with UC Berkeley's IGI testing program, first working in the wet lab and, more recently, modeling testing frequency to advise which populations of students and staff to test on a regular basis. Several publications related to that work are currently in review.
Brook was awarded one of this year's L'Oréal USA for Women in Science fellowships, which comes with $60,000 to advance her research and capacity-building efforts. Because the country doesn't offer fellowships for graduate research, she's using some of her funding to pay her Ekipa Fanihy research students. She also plans to expand E2M2 into a Madagascar chapter of the Girls Who Code organization.
Her own teaching, research, and travel have been as affected by the pandemic as elsewhere in the academic and scientific world. "The challenges of COVID have forced our scientific community to grapple with problems regularly faced in the developing world," she says. She cites a time when IGI's testing lab ran out of pipette tips and COVID testing halted for three weeks until it could get resupplied. "Those supply-chain breaks usually never happen at Berkeley, but they're a regular occurrence in Madagascar."
Does she see the potential for more pandemics in our future? "We've long known that bat-borne viruses pose a significant threat and I expect that we'll continue to see their emergence in the human population throughout my career," she says. "Just in the past month, we've seen the reemergence of Ebola virus in West Africa."
In the future, deforestation and land-use change are likely to drive bats into closer contact with humans, likely facilitating zoonosis. Brook suggests that conservation offers one means by which to help combat the emergence of future diseases. "For example, we've found that bats that are less stressed, with better nutritional conditions, tend to shed less virus. We're really trying to quantify this argument that bat conservation offers an opportunity to promote better human health."
Learn more about Cara Brook's work here.