Submitted by

rhkayen

on Fri, 03/12/2021 - 11:59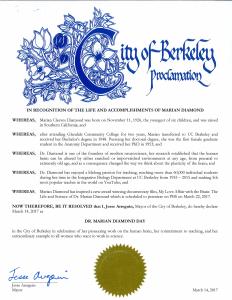 It was proclaimed on March 14th, 2017, also known as "Pi Day" and is Albert Einstein's birthday (and on every March 14th henceforth) that it is Marian Diamond Day in the City of Berkeley.
Professor Marian Diamond loved to bake pies, and was the first person to publish research on Einstein's brain. We honor her memory this upcoming Pi Day.