About Lab Research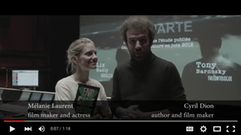 Humanity is poised at a tipping point. Will it be good or bad? A book (End Game, Tipping Point for Planet Earth? and a film (Demain and its English version, Tomorrow) tell the stories of dangers and solutions.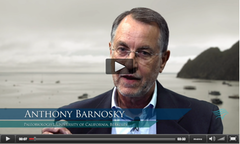 AQUARIUM OF THE PACIFIC AQUACAST
Dodging Extinction: Power, Food, Money, and the Future of Life on Earth. A few comments about the Sixth Mass Extinction and how we can avoide it.  A longer video on this topic can be found here.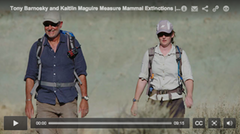 SCIENTISTS AT WORK: Anthony Barnosky and Kaitlin Maguire use the fossil record to explain how we know that current rates of mammal extinction are way too high, in the field at John Day Fossil Beds National Monument. Produced by Josh Rosen and Amy Miller at Spine Films, and HHMI. October 2014.
BIODIVERSITY IN THE AGE OF HUMANS: HHMI's 2014 Holiday Lectures on Science 
Are we witnessing a sixth mass extinction? What factors threaten ecosystems on land and in the sea? What are researchers doing to try to conserve biodiversity and ecosystems such as tigers in Asia and coral reefs around the world? What tools do we have to avoid a global catastrophe? In six half-hour lectures, three leading scientists—Anthony D. Barnosky, Elizabeth A. Hadly, and Stephen R. Palumbi—describe the state of biodiversity on our planet and how to face the great challenges that lie ahead.  October 2014.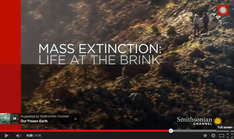 MASS EXTINCTION: LIFE AT THE BRINK
A 54-minute film by award-winning film maker Sarah Holt, Tangled Bank Studios and HHMI; premiered on the Smithsonian Channel.  Presents the science behind what we know of the dinosaur extinction, the Great Dying that took place at the end of the Permian, and the current extinction crisis. November 2104.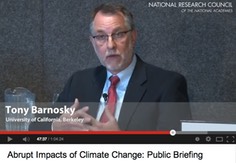 ABRUPT IMPACTS OF CLIMATE CHANGE: PUBLIC BRIEFING Published on Dec 5, 2013
A public briefing for the release of Abrupt Impacts of Climate Change: Anticipating Surprises. The study examines the likelihood of various physical components of the Earth system undergoing major and rapid changes (e.g., a shutdown of ocean circulation, ice sheet disintegration, etc.), explores how to monitor climate change for warnings of abrupt changes and emerging impacts, and identifies high priority needs for future research directions and monitoring capabilities. Speakers include Dr. James White from the University of Colorado at Boulder, who chaired the report's authoring committee, and committee member Anthony Barnosky from the University of California at Berkeley.
     BILL MOYERS: Letting Down the Next Generation 
     FRESHMAN SEMINAR 2012: Changing the Course of the Sixth Mass Extinction
     BERKELEY INITIATIVE FOR GLOBAL CHANGE BIOLOGY
     KAITLIN MAGUIRE AT THE JOHN DAY FOSSIL BEDS
VIDEO FIELD JOURNALS-AFRICA 2012
     Amboseli, A Day in Masai Land, July 31
     Lion KIll in Masai Mara, August 1
     Wildebeest Arrive in Masai Mara, August 2-4