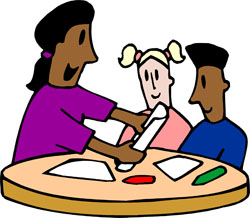 A Wonderful Way to Share What You've Learned
A great way to learn about a subject is to teach it to others. In this course, you will share your knowledge of anatomy with elementary school children.
History
Professor Marian Diamond has directed the Anatomy Enrichment program for over 30 years. She is a dynamic teacher with tremendous enthusiasm. Her recognitions include a UC Berkeley Distinguished Teacher Award and the International Council for Support and Advancement's "California Professor of the Year Award." Students clamor to enroll in Dr. Diamond's classes at Cal (General Anatomy, Neuroanatomy, and the Anatomy Enrichment Program). Sharing her enthusiasm for the beauty of life with school children is truly special. All involved -- school children, parents, teachers, and especially university students -- learn a tremendous amount.
Mission
The mission of this program is to teach young children to love and care for their bodies. If we can teach children the importance of being fit & healthy, now while they are young, everyone's future will be brighter!
Announcements & Messages
Check bSpace often for new announcements and messages.

Prop Room Hours
Prop Room Hours for Spring 2011 are
10:00 am - 11:00 am for dropping off props and
11:00 am - 12:00 pm for picking up props.