Overview of our Lab
Our group studies food webs in rivers and their watersheds. We are interested in how attributes and performances of species influence their effects in food webs, and how species interactions change under different environmental regimes.
Topics of current interest include:
Effects on river food webs of changes in hydrology, temperature, nutrient loading, energy source, and community structure.


Impacts on meadow ecosystems of precipitation changes forecast by leading climate models for the California North Coast.
Trophic impact of river-derived algal and aquatic insect production on consumers in the watersheds, estuaries, and coastal marine ecosystems.
Landscape controls on stream metabolism, nutrient fluxes, and on consumer-resource interactions that influence biogeochemical fates of algal production.
Much of our field work takes place in the watershed of the South fork of the Eel River at the Angelo Coast Range Reserve in Mendocino County, CA. Portions of the south fork of the Eel River,and entire watersheds of several of its tributaries, are protected within the reserve. The Angelo Reserve is one of the 38 large protected natural reserves dedicated to university-level research and teaching in the University of California Natural Reserve System.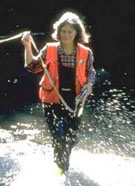 Mary Eleanor Power
Professor

Department of Integrative Biology
University of California Berkeley
Contact:

mepower@berkeley.edu
(510) 643-7776

Office: 4184 VLSB
Lab: 4180 VLSB
Mailing Address:
3060 Valley Life Sciences Building #3140
Deparment of Integrative Biology
University of California
Berkeley, CA 94720-3140