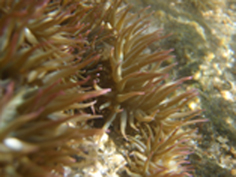 Eve Robinson
My research involves examining the bio-physical interactions between benthic suspension feeders and planktonic prey, using an intertidal sea anemone, Anthopleura elegantissima, and zooplankton with different locomotory behaviors.
Suspension feeders are important components of benthic marine communities. These organisms live in the benthic boundary layer and play a key role in transporting material from planktonic to benthic communities. Suspension feeders prey upon particles and small organisms suspended in the water column. While active suspension feeders are able to generate local currents to enhance encounters with prey, passive suspension feeders like sea anemones depend on ambient water motion to deliver planktonic prey. Variations in the flow environment (due to currents and waves) affect food availability for passive benthic suspension feeders that do not swim or relocate to more favorable conditions.
I look at the effects of turbulence, wave motion, and plankton swimming behavior to better understand the mechanisms that contribute to predation. To quantify the range of flow conditions experienced by Anthopleura in shallow coastal habitats, I take measurements of flow and plankton availability over sea anemone beds on the Bodega Marine Reserve (UC Davis Bodega Marine Laboratory). Since planktonic predator-prey interactions occur on fine spatial and temporal scales that are difficult to observe in the marine environment, I use in situ measurements of water velocity, turbulence, and waves to recreate flow microhabitats in the lab where these small-scale interactions can be recorded.
Research Questions:
1. What range of flow conditions do benthic suspension feeders experience?
2. How does turbulence or wavy flow affect zooplankton swimming behavior and the delivery of prey to the benthos?
3. In realistic flow conditions, how does prey swimming behavior affect suspension feeding predator-prey interactions?
4. How do upstream and downstream members affect planktivory? Do individuals of a sea anemone clone experience different prey availability and/or flow?
    
	
Education
Ph.D. Student in Integrative Biology (2008 - present): University of California, Berkeley (Berkeley, CA)
M.S. in Marine Science (2006): University of Texas at Austin Marine Science Institute (Port Aransas, TX)
B.Sc. Honours in Biology and Environmental Studies (2003): University of Victoria (Victoria, BC)
Publications
Finelli, C.M., Clarke, R.C., Robinson, H.E., and Buskey, E.J. (2009) Water flow controls distribution and feeding behavior of two syntopic coral reef fishes: I. Field measurements. Coral Reefs DOI 10.1007/s00338-009-0481-0 Online March 3, 2009
Voordouw, M.J., Stebbins, G., Robinson, H.E., Perrot-Minnot, M.J., Rigaud, T., and Anholt, B.R. (2008) Genetic variation in the primary sex ratio in populations of the intertidal copepod, Tigriopus californicus, is widespread on Vancouver Island. Evolutionary Ecology Research 10(7): 1007-1023
Robinson, H.E., Finelli, C.M., and Buskey, E.J. (2007) The turbulent life of copepods: the effect of flow over a coral reef on their ability to detect and evade predators. Marine Ecology Progress Series 349: 171-181
Voordouw, M.J., Robinson, H.E., and Anholt, B.R. (2005) Paternal inheritance of the primary sex ratio in a copepod. Journal of Evolutionary Biology 18: 1304-1314
Voordouw, M.J., Robinson, H.E., Stebbins, G., Albert, A.Y.K, and Anholt, B.R. (2005) Larval density and the Charnov-Bull model of adaptive environmental sex determination in a copepod. Canadian Journal of Zoology 83: 943-954
Graduate Academic Awards
Mildred E. Mathias Graduate Student Research Grant (2010-2011): UC Natural Reserve System
Graduate Division Summer Fellowship (2011): UC Berkeley, Graduate Division
Lerner Gray Memorial Fund (2010): American Museum of Natural History
Graduate Summer Research Fellowship (2010): UC Berkeley, Department of Integrative Biology
Charlotte Mangum Student Support Award (2010): Society of Integrative and Comparative Biology
Non-Resident Tuition Award (2009- 2010): University of California Berkeley, Graduate Division
Post-graduate Scholarship (2008-2011): Natural Sciences and Engineering Research Council (NSERC) of Canada
Presentations & Lectures
Robinson, H.E. (2011) Aspen Ocean Symposium [poster], Aspen, CO
Robinson, H.E., Finelli, C.M., and Buskey, E.J. (2010): Society of Integrative and Comparative Biology Annual Meeting [presentation], Seattle, WA
Robinson, H.E. (2008): Trinity Western University [invited lecture], Langley, BC
Robinson, H.E., Buskey, E.J. (2006): American Society of Limnology and Oceanography Summer Meeting [presentation], Victoria, BC
Professional Experience
Appointments:
Graduate Student Instructor (Fall 2008 - present): University of California, Berkeley (Berkeley, CA)
Biomechanics (Mechanics of Organisms, Fall 2011; Mechanics of Organisms Lab, Spring 2010)
Oceanography (Intro to Oceans IB/EPS/GEO c82, Fall 2010)
General Biology (BIO 1B, Fall 2008 and Spring 2009)
Marine Science Lab Coordinator (Spring 2005): University of Texas at Austin (Austin, TX)
Teaching Assistant (Fall 2004): University of Texas at Austin (Austin, TX)
Oceanography (Introduction to Oceanography MNS/GEO 307)
Research Assistant (2003 - 2004): University of Victoria (Victoria, BC)
Communications:
Science Writer (2007-2009): Canadian Institute of Mining, Metallurgy, and Petroleum (Montreal, QC)
Marine Conservation Research Assistant (2007-2008): Project Seahorse, University of British Columbia (Vancouver, BC)
Environmental Consultant (2006-2007): Watershed Watch Salmon Society (Vancouver, BC)
Marine Educator (Summer 2002): Marine Ecology Station (Sydney, BC)

Volunteer

Women in Science Coordinator (2009 - present): University of California Berkeley, Department of Integrative Biology
Diversity Committee Graduate Student Member (2008 - present): University of California Berkeley, Department of Integrative Biology
Project Peace Coordinator/Liaison (2009 - present): Project Peace East Bay, Community Dinners
Dinner with a Scientist (June 2010, May 2011): Oakland United School District
Undergraduate/Graduate Mentorship Program Mentor (Spring 2010): Associated Students of University of California Berkeley
Grant Writer (2006 - 2007): UrbanPromise Vancouver, After-school Program
Women in Natural Sciences Mentor (2004 - 2005): University of Texas at Austin, College of Natural Sciences