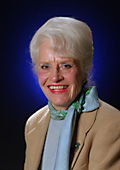 Dr. Diamond's research includes neuroanatomy, environment, immune functions, and hormones.
In particular, she is interested in studying the effects of the external environment, aging, and immune responses on the cerebral neocortex.
Research
Dr. Diamond's research demonstrated how different kinds of environmental input (enriched or impoverished) can alter the structure of the rat cerebral cortex and consequently behavior.
The results of her research showed that enriched environments can increase the dimensions of the cellular constituents of the cortex at ANY age from prenatal to extremely old age, (equivalent to 90 year old people).
Four days of enrichment can create statistically significant growth; just as four days of impoverishment can create statistically significant decreases in cortical development.
Brain Anatomy, Postive Thinking and Good Health
In a 7-year research study, Dr. Diamond provided statistically significant anatomical differences in the cerebral cortex of male and female rats throughout their laboratory lifetime, from birth to old age.
Another major initial finding demonstrated a specific correlation between the immune system's CD4 cells and the frontal lobe of the cerebral cortex, a possible link between positive thinking and good health.
Research in Action
Dr. Diamond is using the findings of her enrichment research to directly benefit impoverished, orphaned children.
Her most recent project, Enrichment in Action, provides children in Cambodia with an enriched environment through supplementary vitamins, English and computer lessons, and wider social acceptance.
The project aims to increase the children's chances of living healthy, productive lives.
Dr. Diamond: Q&A
What led you to become a scientist, and in particular, to work with the brain?
My love affair with the brain started when I was a child growing up in the country. At night, I would look at the stars and wonder where the sky ended.
When I learned that the universe had no end, I wanted something easier, more circumscribed to think about. So I started concentrating on brains and the little bit I knew about them.
How has your research affected your classroom and/or lab?
My research is basic to my classrooms here in Berkeley and my "lab", presently in Cambodia.
An enriched classroom can increase cortical dimensions, but we have shown that a stressed cerebral cortex decreases dimensions. Cortiosteroids decrease cortical structures. I try to keep stress out of the classroom as much as possible.
What do you enjoy most about research and teaching?
The privilege of learning and sharing for a lifetime; everyone benefits.
March 2006
For more information, visit:
Unsung Heroine
In the fall of 2005, the Office of Student Research conducted a survey of undergraduate experience at Cal. One of the questions asked the students to name someone who went "beyond the call of duty".
Dr. Diamond was one of the faculty cited as an "Unsung, Everday Hero".
Wrote one of her students in the survey:
"While she may very well be a "sung" hero of Berkeley for all of her work, I think she deserves additional accolades for her time spent with students out of the classroom or lab."